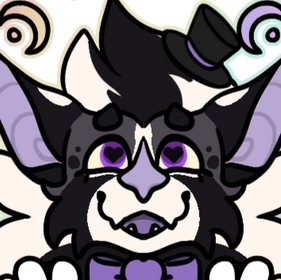 Niightingvale Art
Vale || 22 || They/Them
---
Hello and welcome to my carrd! This is a hub for further information about me and my art.
(Current icon by KamiDeviant)
---
Commission Status: Closed
TERMS OF SERVICE
Last Updated: 01/18/2022

By purchasing a commission you agree to the following terms of service.
---
General Terms of Use
I have the right to display the artwork in portfolios and galleries unless specified otherwise. If requested I can also display your name alongside the character to give you proper credit as the owner of the image.

By commissioning me you agree that you will not claim the art as your own or post it without giving me proper credit as the artist, either by linking to one of my social medias or providing my online name as the artist.

You may not use my art for commercial use unless permission is granted.

You may not use my art for NFT's, or any additional blockchain-tied asset.

I reserve the right to turn down any commission.
---
Payment
You must pay the price agreed upon in full amount, whether it be in separate payments or all at once. Separate payments must be discussed accordingly beforehand, not after the art has been commissioned.

If paying all at once, payment must be provided before work on your commission begins. If paying in separate payments, half must be provided before work on your commission begins. However, different circumstances may be negotiated.

Payment due will be decided in the initial quote. You may be charged extra depending on the complexity of the design of the character.

Tips are encouraged but not required.
---
Refunds
Once a commission has been started, you may no longer request a full refund. If I feel as though I may no longer be able to complete your commission, I may offer you a full refund.

If more than 60 days pass and you have not received any updates on your commission, you may ask for a refund. Refunds will be discussed, Do not issue a chargeback with PayPal.
WILL DO
---
Humans

Anthro/Furry Characters

Humanoid Robots
WON'T DO
---
Fetish Art / NSFW

Mechas / Vehicles

Feral/Animal Characters
CONTACT INFORMATION
---
To contact me about a commission, I can be found actively on Discord at Niightingvale#9717, however I will also respond to DMs over Twitter.

I will do my best to reply to all messages in a timely manner.